.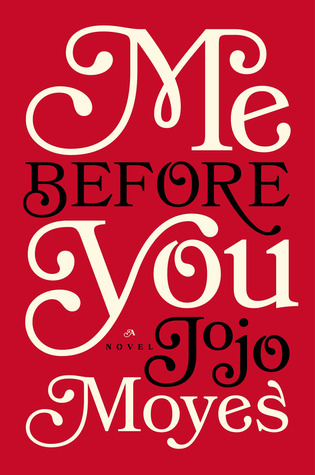 Me Before You
By Jojo Moyes
Publisher: Pamela Dorman Books/Viking 2012
Pages: 369
Summary: Lou Clark knows lots of things. She knows how many footsteps there are between the bus stop and home. She knows she likes working in The Buttered Bun tea shop and she knows she might not love her boyfriend Patrick.
What Lou doesn't know is she's about to lose her job or that knowing what's coming is what keeps her sane.
Will Traynor knows his motorcycle accident took away his desire to live. He knows everything feels very small and rather joyless now and he knows exactly how he's going to put a stop to that.
What Will doesn't know is that Lou is about to burst into his world in a riot of colour. And neither of them knows they're going to change the other for all time.
My Review:
This is by far my favorite book I have read this year! The movie was really good too! I read the book a couple of months before the movie came out, since I am one of those people who has to read the book before I watch the movie.
It's impossible not to fall in love with the characters and story. The book is deep and insightful in many many ways.It tells the story of a man and women in a small British town, where one is confined there, while the other has confined herself there. Most of the story is told from the viewpoint of Lou, with a few chapters from the viewpoints of the other characters. Lou was such a fun and witty character. She has a lot on her shoulders, but still manages to be funny and charming, especially when she starts babbling. Will more of a cipher as confront major problems; such as being confined to a wheelchair, missing his old life, dealing with pain, and not knowing when his condition will deteriorate. T
his book was very educational, emotional, and inspirational in many ways.
With this book's relation to education there was extensive information on the life of a quadriplegic.This included treatments, medication, pain management, deterioration of their condition , difficulties in getting out and about, the way relationships change, and emotional states. As someone who studies health, this was all really fascinating to me. It helped me to understand what quadriplegic people go through on a day to day basis. Like having to have someone feed you, help you go to the bathroom, move you to and from your chair, bed, and car. It would be very frustrating, especially if you had done those things yourself before.
Emotionally, this book took a toll on me. My poor brother and sister-in-law had to hear me wailing in the back of the car, as I read. You can really feel what each character is going through. You finally come to terms with their decisions and actions. You feel frustrated, sad, happy, hopeful, and every other emotion you can think of while reading. In this book, Will represented a view that life isn't worth living if you're disabled, but Lou fights hard to promote that life is always worth living no matter what.
As for inspirational, this book teaches you to push yourself to realize your full potential, even if you are one of those people who is afraid to takes risks. To always be open to try new things. It teaches you to learn to love and support someone, even if you don't agree with his or her choices or decisions. It also inspires you to not let one bad incident define you, but to rise up and keep going. I loved that it inspires you to keep an open mind when you are dealing with someone difficult, because you never know what emotional battles they are fighting in their lives.
You think you are getting into a romance, but instead you will find yourself enmeshed in a suspenseful, emotional, and beautiful novel. It is a MUST read! So please please read it :)
Watch Out For: Kissing, brief sex scene, drinking, Infrequent swear words (British slang), motorcycle accident, and some arguing.
Watch the Movie: